Printing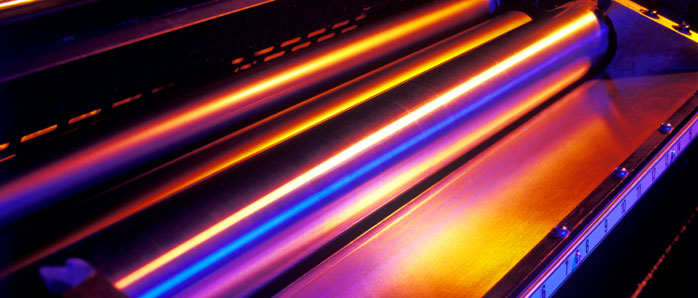 Have you ever heard the sound that a printing press makes when it's running at full speed and something brings it to a complete and unplanned stop?
When this happens, you need to be able to call someone that is reliable and available in your time of need. You need a company thay understands the necessity for immediate action and has the experience to solve your cylinder problem with accuracy and efficiency.
Canadian Metal Ad Corporation specializes in a process called Brush Plating and are on-site metal finishng experts. One of the largest specialized markets for brush plating is the printing industry. Press components are brought to CMC for re-surfacing by manufacturers, repair shops and print houses. It is the ability to repair scratches, dings, dents, smashes and other defects on printing cylinders and rolls without disassembly, that is CMC's most highly prized attribute.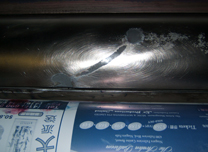 CMC is strategically located for prompt coast-to-coast response for emergency calls.
"I have been using and recommending CMC for cylinder repairs since the early 1990s. Their attention to detail, quality of work and responsiveness has always been very high. I have used them for numerous types of repairs on web presses and sheet fed presses. Some of the projects were quite challenging and, in every case, I have been totally satisfied with the results." Richard Armstrong, President Heidelberg Canada
Smashed blanket cylinders are built up using Copper material and reworked to the original height of the cylinder. Various precision measuring tools are used to ensure an even surface and correct tolerance.
The technician physically and chemically removes corrosion from the cylinder surface. The corroded area is then built up with copper. The surface is reworked to size and a hard Nickel coating is deposited. Throughout the process little heat is generated and the surrounding area is not affected in any way.
When an Allan wrench went through 2 units and damaged 4 cylinders. CMC equipment and technicians were flown to Vancouver BC from our Brampton facility in Ontario. The turnaround time from damage to repair was 4 days. The realized cost savings was in excess of $400,000 which would have included cylinders, replacement parts and about 3 weeks in lost downtime and revenue.